Post retreat integration guidance – online or in person
Team: Benjo Podlech
Open Dates
Your journey doesn't finish at the end of the retreat. It continues long after…
We personally know how challenging the post retreat integration can be. You break apart, your belief systems are questioned, your perceptions are shaken and yet you come back to your old life while new you wants to emerge.
Un-shedding the layers, identity crisis, who am I, what do I do next, how do I integrate the change? Lack of support from family, friends, people around you.
Many things are coming to the surface once Ayahuasca enters your system. The retreat is just a beginning to the change that is about to happen in your life.
The post retreat integration is fundamental to ensure the long-lasting impact before you fall back into your old habits. Which can be difficult to do on your own.
New insights & wisdom can be used as enablers to build your life around them whilst stepping into your authentic higher self. Or you can come back to your old ways of being.
Some people find it easier to integrate lessons alone, while others are in need of support and guidance to not fall back into the old vicious cycles. Knowing that, the Avalon family is offering integration guidance programs.
A guide is someone who accompanies you in building a bridge between where you are to where you want to be. He/she sees beyond your words, nurtures your heart, connects with you at a deep level & places full focus on you and your journey.
Guide stands near you as an observer, with no judgment just pure devotion to helping you step into the new yet very real version of you.
We offer 3 integration packages:
2 sessions – if you feel you just need that extra support and guidance.
4 sessions – to keep cracking things up and grounding yourself into your life.
8 sessions- for those that are in need of redesigning their lives at its foundations.
You can choose a guide that you can best relate to and all of them have been part of the retreat you participated in, hence they know the ins and outs of your journey.
Once you reserve your package, you will be emailed with information of your next steps. You will be invited to book your first call with a chosen guide and take it from there as soon as the retreat finishes.
If you have any additional questions before booking, please, contact  us.
Team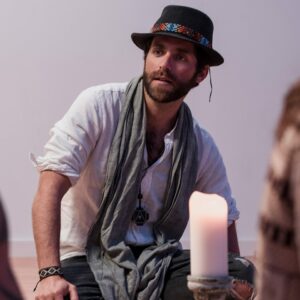 Benjo Podlech
Archetype: Grounded tiger that pushes the limits to wake up the soul potential. Spiritual comedian. Creator of new versions. Role: 10 years of experience with plant medicines. Guardian and musician of sacred ceremony space. Psychology, guidance and integration. Divine masculine circles. Personal journey: My mission in this life is to…
Learn more about Benjo Podlech