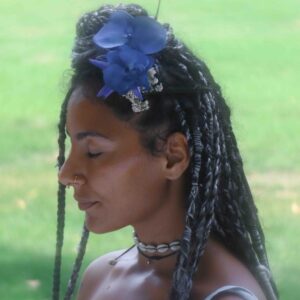 Archetype: Unconditional lover. Unites and connects people by flow and pure love.
Role: Spiritual host. Guardian of sacred ceremony space. Guidance and healing massage therapist.
Personal journey: I've always seen my life like a Disney movie, starting as an innocent little girl – playing and exploring, having an amazing loving family, feeling safe and protected, with a lot of dreams and hopes.
A beautiful little creature with an open heart full of love and light who wants to make the world a better place, who sees the good in everyone and cannot distinguish the difference between everything alive around her as she believes in unity and oneness.
Then the drama started and turned everything that once was beautiful into darkness and pain. A long journey of suffering pushed that same innocent girl to build walls of protection and armour around her warm little heart so she could survive. A path of disappointment and fears as the fairy-tale was getting further and further away until it disappeared.
I've always seen myself as Cinderella and to be HONEST my life story is very similar except the fact that childhood wasn't so innocent and perfect. I faced my first sexual abuse at my 4 years old and it lasted for 8 years. My parents got divorced and I had 2 steps mothers, both were extremely violent and hated me and my twin sister. Physical abuse, psychological abuse and suffering were my rewards for many years without being able to even talk about it because I didn't have the right and no one wanted to believe me.
At 20 years old I experienced a forced marriage – that lasted for 4 years – 4 years of lying, manipulating, playing a role and selling my body for the wellbeing of my family. Over this period I sacrificed myself, working as a slave in Europe and sending money back to my family.
After my divorce I decided to walk away from the religion, God and beliefs… if God really existed – why did I have to go through all of this? I tried to end my life and even that didn't work.. I was too weak to even put an end to my suffering.
25 years old I met death, two cancers at the same time – cervical cancer and breast cancer. At that time I was alone, no family, no friends, no one to help me or even accompany me through the process. I was hopeless, alone and barely living. What saved me back then was my love for my twin sister. I couldn't let her live this painful life without my love and care for her, I couldn't let her suffer alone. I refused to let go without fighting and without trying everything I can. I had a 6 months of chemotherapy followed by a surgery. I won this battle.
27 years old I lost my daughter. After my surgery the doctor said that I could never give birth again, yet one year after I was pregnant, it was the most amazing thing that happened to me so far, I spent 3 months imagining how wonderful mother I will be and how beautiful little creature I will have. Jade was her name, she brought hope into my life and faith into my heart, I started to believe again, I started to see the end of the miserable life that I had to pass through and for the first time I was able to see a future for me and for us. Unfortunately, I couldn't pass the fourth month.
I had to abort because the risks of death for both of us were too high.
But finally, God showed mercy on me, after 27 years of hell he decided to do something so he sent me a guide, a guru and a saver to shed some light on what I thought was my life.
He guided me to a new journey where everything was possible, where love is all there is and where I am a divine creature. A new journey where I met my tribe and family, a journey where I can BE, and a journey where there is no place for pain and suffering because I finally start to remember why I am here and why I had to experience what I experienced.
Cinderella found her happy ending in a man's castle. I found mine in spirituality, higher consciousness and divinity.
Events with Nessy Haffani