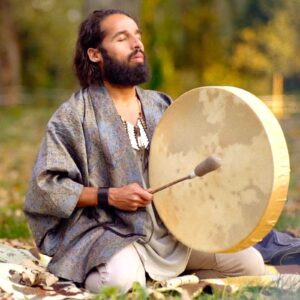 Archetype: Light warrior who grounds and empowers.
Role: Founder. Spiritual "orchestra" conductor. Guardian of sacred ceremony space. Coaching and integration.
My personal journey: I am deeply passionate about creating beauty. Passion is nothing but love turned into action, it is the fire that guide us towards expressing who we really are. The product of that love, then, became Avalon. A great canvas where I paint with conscience and, together with a wonderful family, we trace colours, textures and shapes in order to share what has changed our lives and helps us create the highest version of ourselves.⁠
My personal story has three deep wounds and revelations, perhaps some of them we share. The first is the fear of suffering, of being hurt, and therefore transforming it into the acceptance of pain. The second is being trapped in the mind and the thoughts and therefore remembering to connect with my feelings and be in the present. The third is the attachment to my individuality and personal identity and therefore surrendering to the dissolution of my ego.⁠
After going through NLP, India, vipassana meditation, nutrition and movement, in my process of self-knowledge the Universe blessed me with the encounter with the sacred Ayahuasca. At this moment all the pieces of the chaotic puzzle of my life fell into place and made sense. I remembered who I really am, I remembered that all the answers are within me, I remembered to love myself and I remembered what I'm here for.
Events with Alejandro Carbó