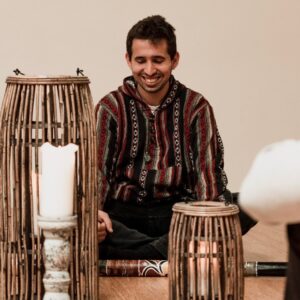 Archetype: Smiling face. Energetic learner of life. Friend of the sacred fire.
Role: Lawyer. General assistant.
My personal journey:At the beginning of 2018 I was not well, I did not assume maturing, growing up and becoming an adult. I looked longingly at my previous stage. That winter my brother invited me to an Ayahuasca retreat and since I have always liked trying new things, I agreed. After a very difficult night I understood that growing up is good.
From that retreat, I began a committed path of traveling; ceremonies of all kinds, readings, meditating and breathing became a very important practices in my daily life as they are helping me to better understand myself, adapt to the constant changes in life and find a higher goals and visions that became my purpose. This purpose is about the law regarding plant medicines, ancestral practices and ways of healing. Today, protecting the plant medicines, protecting participants' right to choose plant medicines to heal and so fight peacefully and consciously for it's legislation were my primary motivators that guided me to be part of the Avalon family.
Events with Victor Carbó