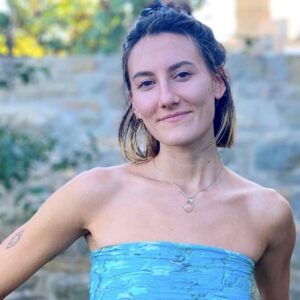 ARCHETYPE: Wild woman. Fiery bruja. Awakens your power and your feminine instinctive psyche.
ROLE: Yoga instructor. Divine feminine circles.
PERSONAL JOURNEY: My life has always been filled with mysticism. As a kid I was instinctively drawn to throwing cards, consulting oracles and reading "the future" in crystals and special stones. I was obsessed with ancient Egypt, vampires and magic. Since I was 6, I secretly called myself witch Ka (Ka meaning life force or spirit).
When I reached the age of 12, the patriarchy's ethos of dominance, greed, violence, war and separation killed little witch Ka. I became detached from my femininity, from my instinct, my deepest knowing.
Thankfully, my asleep years did not last for too long. My spiritual re-awakening began around 2012 during my 18thyear in this beautiful and crazy plane of existence. It had been quite a slow and gentle journey, until I met Ayahuasca in December 2020.
I had already started re-connecting to the DIVINE Woman in me. Also, in 2017 I started the path of Yoga to heal and I wanted to be of service. In parallel, I also got the call from Ayahuasca, which I decided not to force and let the Universe bring to me. Three years later, my prayers manifested through Avalon.
Ayahuasca has immersed me into what is sometimes referred to as "the dark night of the soul". My first ceremony was the most powerful, tough, humbling and eye-opening experience of my life. I went to hell and back, and I am so fucking grateful for it. This was the beginning of intense shadow work and a journey towards other realms. Ayahuasca has helped me to be comfortable with my vulnerability and it has opened my heart to a whole new level. I am learning how to let go of the "overly positive mother", finding that being good, sweet, nice will not cause life to sing. I am giving space to my shadow nature, those repressed and exploitative aspects of the self. I am acknowledging these unequivocally. I have been quiet for too long. I am taking space. I am making the best relationship I can with my worst parts. I am letting the pressure build between who I was taught to be and who I really am. Ultimately, I am working toward letting the old self die and the new intuitive self be re-born. 
Above all, Pachamama has shown me the beauty of it all. By embracing my darkness, I embrace yours. Compassion for us all.
We are all in this together; we need first to do the individual inner work for the collective evolution. And it is imperative that we restore the divine feminine within us so we can reclaim and recover the feminine energy in this broken world.
Our femininity has been abused, ridiculed and assaulted for thousands of years, ultimately as a result of the illusion of separation among beings, who are One and cannot be truly divided. Feminine emotional qualities such as sensitivity and the overall presence of magic (synchronicities, miracles, spirituality…) has been mocked, shunned and in some cases forbidden. This has left a planet of life cut off from an essential part of who we are and what nourishes us. Many women, through countless assaults to their energy, have lost touch with their inherent magical qualities, powerful psychic abilities, creative and sensual expression, personal power and the ability to nurture sisterhood. 
In Mexico, they say that women carry la luz de la vida, the light of life, which is located en los ovarios, the ovaries. As Clarissa Pinkola Estés points out in her superb book "Women who run with the wolves", this is the knowing to be gained in being close to Wild Woman. When she sings, she sings from the knowing of los ovarios, a knowing deep within the body, deep within the mind, deep within the soul.
Each woman has potential access to Wild Woman, the female soul. "She is ideas, feelings, urges and memory. She has been lost and half forgotten for a long, long time. She is the source, the light, the night, the daybreak. She is the smell of good mud and the back leg of the fox. The birds which tell us secrets belong to her. She is the voice that says, this way, this way."
I recently had a special experience with a Cuervo, a Raven, who showed me the way in a moment of overwhelming synchronicities. So here I am, telling you beautiful humans reading these lines: this way, this way.
I love you.
Events with Carla Magna