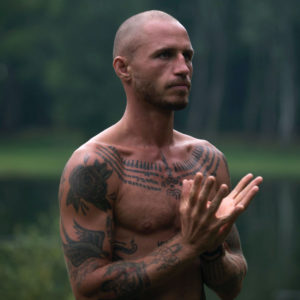 Archetype: Older brother. Protector with the biggest heart. Strong healthy masculine.
Role: Shamanic Breathwork and Meditation.
Personal journey: My path to a spiritual life, like so many peoples, was not a direct one. Most of my adult life until a few years ago was spent as a professional athlete- I was devoted heart and soul to my martial arts practice of Muay Thai. This culminated in 30 fights around the world, most notably winning at Max Muay Thai tournament in Thailand and Kunlun Fight in China.

Shortly after these memorable events, in the prime of my martial arts career, everything unexpectedly ended due to a mystery illness. Years passed as conventional medicine failed to diagnose the problem. Numerous Doctors claimed tests results proved I was healthy, as my physical and mental health visibly spiraled downward.
This great obstacle, proved to be my new path. As my father wisely confided to me, the only person capable of healing me was myself.
The fight of my life was no longer against an opponent, but instead a fight for survival. And an arduous fight it has been…four years on I still suffer from symptoms. And they continue to fuel my search for alternative ways to heal and optimize. Wim Hof and Shamanic breath work proved to be the biggest catalysts in my life. Allowing me to connect back to myself in an energizing and uplifting way. Through breath work, I discovered meditation. Meditation has totally changed my life, empowering me to be able to manage how I feel inside, my meditation practice enables me to surf the unexpected waves life throws our way and to connect to my higher self and that wisdom.
My spiritual reading and listening have been extensive, I have attended various spiritual retreats, Ayahuasca ceremonies, amongst many other interesting experiences, most recently a Vipassana in the jungle in Thailand. My objective is to harness my suffering through gratitude for the path that it has put me on. Because of my own journey and discoveries, I started teaching Muay Thai, and using breath work and guided meditations. It seemed people were missing an element of spirit in their lives and through martial arts I could bring this to them through the backdoor. Ultimately what makes us teachers is that we have walked the journey ourselves and we know how hard it is.
Events with Paul Arguelles